Theme: Wine Country Gala - 2020 - Saturday, March 28th
We are excited that you will be attending the 7th Annual Wine Country Gala which will be benefiting our communities' youth. Please RSVP required by Tuesday, March 9th. This Gala Dinner will be held to 110 guests and feature food services by the Barrel Room of Rancho Bernardo.
Saturday, March 28th, 2020 at Manna's Martial Arts
12285B World Trade Drive, San Diego, CA 92128
All proceeds are a tax-deductible donation to TEMAS - 501(c)(3) Fed I.D. # 33-0497420
Reserve your seat(s) now to this Special Event. $70 per ticket/seat
An event for adults. Your name and information will be taken from your payment.
The 2020 TEMAS Wine Country Gala, March 28th, 6:00 PM to 11:00 PM and will include:

6:00 PM Door Open, Silent Auction tables open

6:10 PM Host Bar open and Appetizers Served

7:30 PM Buffet Dinner
8:30 PM Welcome & Live Auction

9:45 PM Final tables Close
A limited run of custom engraved event wine glasses are available, reserve your's now, they will be provided at check in for use at the TEMAS Gala.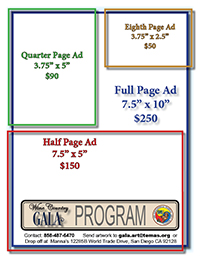 Please share your company and services by taking an advertising space in out Gala Program
Promote your company or service

Place a family photo/ share your thoughts and support

Please feel free to support TEMAS by making a direct donation of any amount you wish.
Thank you for your support and care.
The team at TEMAS.